Technical stability
Licensed hardware and software guarantee stable operation.

Rich portfolio
The company's client portfolio includes the leading Russian banks and the largest offline and online retailers.

Leading position in the industry
Technological leadership - allowed us to achieve high-quality services.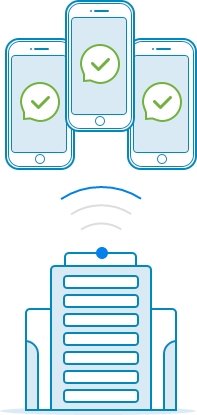 SMS Messaging
With the growing popularity of online sales channels, a supplying company must constantly interact with the potential consumer. A Bulk SMS newsletter from SMSTraffic helps to keep in touch with the consumer. We offer a wide range of information and advertising support services for Moscow and other cities.
Benefits of SMS sending
SMS newsletter is one of the most efficient advertising and information marketing tools, allowing business owners to contact consumers directly. According to statistics, Russian users read up to 97% of mobile SMS messages sent to their phones. The use of SMS messaging services significantly increases the effectiveness of mobile advertising.
The number of smartphone and mobile internet users is steadily growing, which means the number of potential customers is also increasing. By having a direct effect on subscribers via SMS newsletter, the customer can:
stimulate demand for his products
advertise new products and "hot" promotions
inform about discounts and special offers
to personalize notifications
collect data for targeting and statistics
increase brand awareness
Start improving the effectiveness of your advertising with SMS messaging services by base right now:
Register on our website
Authorize in a personal cabinet
Load the phone numbers of the recipients
Prepare the text of the SMS newsletters
Set up mailing parameters.
Our Capabilities
SMSTraffic SMS service offers platform products with which business owners can organize digital marketing and comprehensive information for their customers. The following options are available:
Sending and receiving text SMS messages
Integration of electronic call routing by tone numeric input on the keypad (IVR)
Sending voice messages, SMS notifications, and emails
Notification via official messenger channels in Viber, Telegram, and WhatsApp
Other innovative products for online marketing
SMS newsletter to customers and other company products can become a strategic impulse to help develop your business, contribute to its popularization and increase its market position.
SMSTraffic has become one of the legitimate market leaders due to its staff's professionalism, modern facilities, and high-quality services, which is confirmed by a license for telematics services.
Personalized Text Message Settings
Schedule and create a mailing, set the date and time to send messages, and your mailing will start on time.
Time zone control: SMS messages to Kaliningrad and Vladivostok are sent according to each city's time zone.
Time-targeting: messages come at the right time, convenient for your customers; they will not receive them at night and early in the morning.
Distributed distribution: if you wish, the messages will be sent in packs without overloading your managers.
The actuality of the messages: your clients will not get a message with an actual offer!
SMS Mailing Costs
Our company offers services on Bulk SMS distribution at a price lower than the average market price. Our rates are the most flexible; for medium and large customers, we offer personalized conditions for targeted SMS.
Cellular operators are the main providers of mobile advertising SMS messages and messengers. Beeline, Megafon, MTS, and Tele2 are the leaders in terms of the effectiveness of texting subscribers.
Do you have any questions about this option? Contact the SMSTraffic company consultant by writing in an online chat or by calling the specified phone number.
Still, have questions?
Call us, and we'll call you back and answer all your questions. You can call us at this number either: